News briefs for the week take a look at ABB's new entrants to the market, the "rebounding" sales forecast for collaborative robots through 2025, unicorn valuations finally come to robotics, the explosion in the need for warehouse space, why the cobot revolution in life science labs, and the rise of "brainy" cobots,
Rebounding cobot market
According to Interact Analysis, "annual revenue of collaborative robots is predicted to reach $1.94 billion by 2028, accounting for 15.7 percent of the total robot market." That's up from 4 percent of the overall robot market in 2020…more than tripling in size over seven years!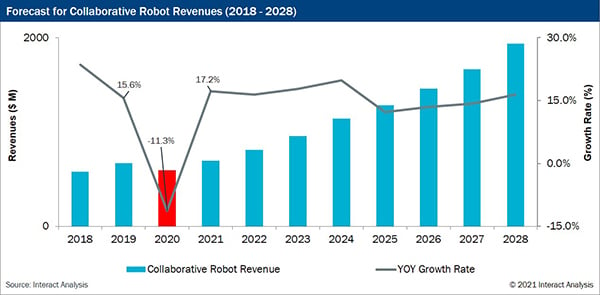 "Material handling, assembly and pick & place are forecast to remain the three biggest uses of collaborative robots. These three functions accounted for 71.9 percent of collaborative robot revenues in 2019. Interact Analysis predicts that cobots rated <5kg and between 5-9 kg will still account for the majority of sales in 2024, with a total of 80.3 percent revenue share and 85.1 percent shipment share."
Unicorn universe visits robotics
Rarely, if ever, do unicorn startup valuations (private companies with valuations over $1 billion) settle in anywhere along the robotics ecosystem. Until now! As of March 2021, CB Insights' The Complete List of Unicorn Companies lists one and only one from robotics out of 500 unicorns worldwide: Massachusetts-based Locus Robotics, because of the company's growing-fast-in-popularity warehouse LocusBots: Intelligent robots that operate collaboratively with human workers to improve piece-handling speed and productivity.

More than 4,000 LocusBots have picked some 300 million units, at more than 40 customer locations; 70 million during Christmas alone.
LocusBot "unicorn" in action
Automation "factoids"
Explosion in need for warehouse space: "With more people clicking 'buy' online, demand for industrial real estate could reach an additional 1 billion square feet by 2025, according to commercial real estate services firm JLL."
"Online retail is a $2 trillion industry growing at 20 percent-plus."
Cobots as "labmates"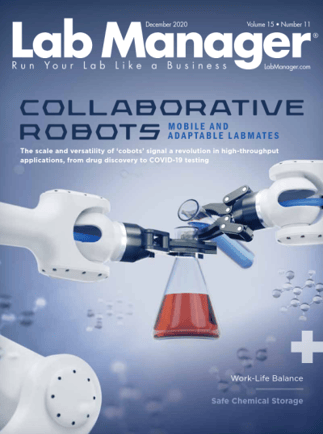 Lab Manager reports: "The scale and versatility of 'cobots' signal a revolution in high-throughput applications, from drug discovery to COVID-19 testing. Consequently, "cobots have begun a steady migration from the factory floor to the laboratory space."
Leveraging cobot automation to life sciences, cobots needed to:
1. Takeover tedious repetition of low-payload tasks that comprise initial discovery processes;
2. Circumvent the circadian rhythm, screening 24 hours per day without pause to streamline and expand the discovery process so that investigative teams can vet many more drug candidates, identify more putative hits, and eliminate more false positives through iteration;
3. Utilize decreased footprints and diversified end-of-arm tooling to create greater adaptability to streamline and standardize smaller-scale tasks allowing for discovery of more effective drugs using more powerful automated genetic and phenotypic screens with complex three-dimensional tissue culture models.
"Brainy" cobots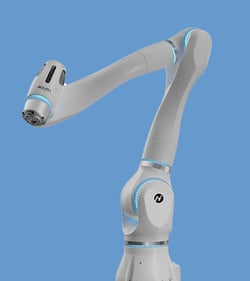 Neura Robotics (Metzingen, Germany), the rebranded former Han's Robot GmbH, has added to its LARA and MAV robot assistants with its newest cobot offering called MAiRA, an acronym for Multi-sensing Intelligent Robotic Assistant.
MAiRA is part of a company-wide move to make "brainy" cobots, with, as the company puts it: cobots that "can hear, see and feel." Basically, cobots able to perceive the environment as humans do.
"This is possible," says Neura, "due to many in-house developed and patented sensors. For a user it means a completely safe robot-human collaboration, complemented by a very simple and intuitive UI, so anyone can operate it."
"My team and I are aiming to make robots smarter and more intuitive to use while increasing the performance and productivity significantly. We want to make robots accessible and usable for anyone in the world, just as naturally as computers and smartphones are used today.
"My mission is to bring humans and robots closer together."
–Hendrik Susemihl, CTO Neura Robotics

Faster, stronger cobots
Zurich-based ABB is also amping up its cobot market presence. Without a new cobot since its 2015 rollout of YuMi, ABB has now introduced two: GoFa and SWIFTI. Faster, safer, stronger, and more accurate than YuMi, the new cobot pair will expand ABB's presence in fast-growing application areas like electronics, healthcare, consumer goods, and logistics.
Designed to meet a growing list of production needs, especially among SMEs, for material handling, machine tending, component assembly​, laboratory automation as well as packaging​​ and inspection, GoFa and SWIFTI are well-aligned, according to the company, to meet emerging demands for increased productivity and flexibility.

In addition to Neura and ABB, Hyundai and FANUC have also beefed up their cobot offerings, all of which coincides with cobot sales forecasts pointing upward for 2021 through 2025, especially in the U.S. and Asia. Industrial robot and cobot sales escaped a down year in 2019 only to run headlong into the COVID pandemic where sales flatlined, but now, however, economies are rebounding and the need for cobots is picking up again.