News briefs for the week take a look at new automation to help productivity gains in construction both in mobile and assistive robotics, robots as lifeguards for grain bins, factory robots retrofitted rather than purchased new, Canada's amazing gains in self-driving trucks, and an Australian couple looking to make their agrobots world leaders.
New hardhat builder rolls in
While every other industry has seen productivity gains over the last 50 years, some by large orders of magnitude, why does construction continue to lag behind? Lack of automation is one gaping oversight.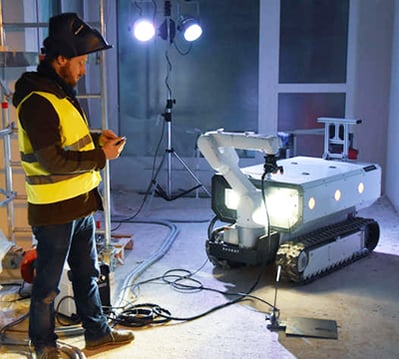 Recently, disruptive forces have been trickling into the construction industry, like the well-known SAM (Semi-Automated Mason) that can lay 3,000 bricks a day.
One of the most intriguing additions is the recently introduced Baubot, a multi-talented mobile robot from Vienna, Austria-based Printstones, a spin-off from Vienna University of Technology. As the company says on its website, they are out "to change the future of construction" …and, towards that goal, have been building mobile robots since 2017.
Baubot is a significate product in that direction. The Baubot mobile robot not only has the capacity to transport heavy loads (over a ton of material), lay bricks and extrude concrete in 3D printing style; but also, with its robot arm (82-inch reach), can sand sheetrock, cut, drill, and use a suction feature to elevate heavy objects into their proper position. Starting cost: $180,000.
This robot always has your back
With "private industry employers reporting 2.8 million nonfatal workplace injuries in 2019—with construction sites especially vulnerable—robotics is fast coming to a permanent solution: the exoskeleton. It seems that no company is working on accident-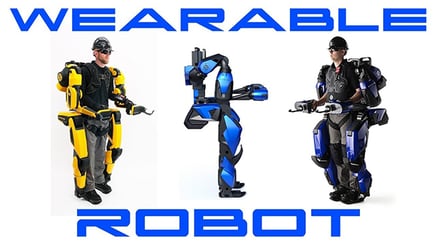 prevention exoskeletons more seriously than Sarcos Robotics. The company has a website that looks like a video game, but it's all real.
The Sarcos Guardian XO exoskeleton the company tabs as "a triumph of possibility is out this year. "Our full-body, powered exoskeleton augments operator strength without restricting freedom of movement to boost productivity while dramatically reducing injuries."
Next year, Sarcos will follow with mid-2022, Guardian XT highly dexterous force feedback industrial tele-operated robot.
Both exoskeletons will round out the firm's commercial lineup, with the aim of delivering a full suite of robots capable of performing physically demanding work that requires human-like skill, dexterity, and range of motion."
Robot lifeguards for grain bins
Grain bins can be dangerous places for a farmer. The average grain bin with over 400 tons of grain is like an ocean of quicksand always ready to suck a farmer to his or her death.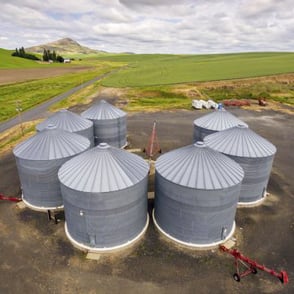 Zack Hunnicutt's wife makes him check in every time he enters or exits a bin. His seven grain bins have a total storage capacity of about 500,000 bushels.
Every year thousands of farmers and commercial grain handlers risk their lives by entering a grain bin to remove clumped or rotted grain. It takes about five seconds to become trapped in grain. After 22 seconds, a completely covered person has little hope of survival. In 2019, there were 38 grain entrapments in the U.S.; 23 were fatal.
Enter the Grain Weevil – a 26-lbs robot from Nebraska-based JLI Robotics that uses "auger-based propulsion to move across the top of grain to address several safety issues including breaking up crusts, leveling bins, doing inspections, and helping with [farmer] extractions."
According to Chad Johnson, whose father founded the company: "We have created a robot that will fundamentally change how grain bins are managed," Johnson says. "In the next five to seven years, we believe nearly every farmer will adopt some sort of grain bin robot."
Don't buy new. Retrofit with a robot
United Grinding, Miamisburg, OH, has a new offering for its grinding machine customers. Don't buy a new grinder. Let United retrofit a robot tender to the existing grinder.
When a customer elects to rebuild or to remanufacture services United Grinding's services, say for older WALTER HELITRONIC power series tool grinding machine, they now have the option to install new advanced automation technology seamlessly into the retrofitted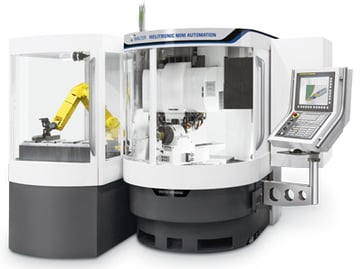 machine. United Grinding says they replace the original gantry beam-type loaders with faster, more productive FANUC LR Mate 200i robots, which are the same robots now featured on all the new on brand new model WALTER HELITRONIC machines.
"In addition to speed, the new robots handle an increased number of workpieces/tools, are more compact and consume less energy. They also support the latest WALTER HELITRONIC Tool Studio and Robot Manager software that allows users to load multiple trays with various workpiece diameters for lights out unattended production."
Best of all, a rebuilt grinding machine costs roughly 75 percent less than new equipment. In short, don't buy new. The old machine will do just fine.
Self-driving trucks, Canadian style!
Are two small Canadian companies beating out the big boys like GM and Ford when it comes to autonomous trucks? Looks that way. And for far, far less money.
It's being hailed in press as: First-of-its-Kind-in-the-World Autonomous Trucking Technology
Canadian Tire Corp. and Toronto-based startup NuPort Robotics Inc., an autonomous trucking company, who bills itself as Canada's First Autonomous Trucking Company, have partnered with the Ontario government to invest $3 million on an automated heavy-duty trucking project.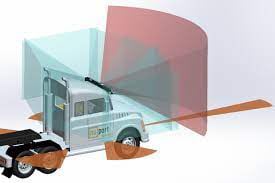 The self-driving truck technology provides "a transportation solution for the middle mile, the short-haul shuttle runs that semi-tractor trailers make between distribution centers, warehouses and terminals each day."
"The trucks are currently transporting goods between a Canadian Tire distribution center in the Greater Toronto Area and nearby rail terminals within a 20 kilometer radius, and early results are promising," said Raghavender Sahdev, CEO of NuPort Robotics.
"The aim of the project is to develop a system that incorporates an autopilot feature for conventional trucks with a driver, leading to the most efficient way to drive and increase safety. The sensors work as a 'safety cocoon' to cover blind spots and prevent accidents and the end result is peak fuel efficiency, meaning lower carbon emissions, and peak driving performance for an overall more optimal transportation experience."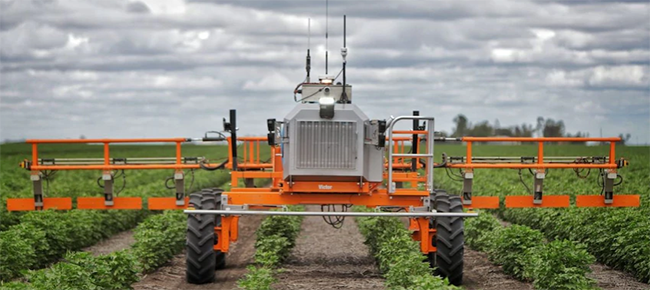 Aussie agrobots looking to dominate
Andrew and Jocie Bate's SwarmFarm Robotics has fourteen of its agrobots currently working in orchards, on cotton and grain properties, and at a turf farm. Soon a vineyard in South Australia will also have one slashing grass, spraying weeds, and detecting and killing snails.
Fourteen robots are way not enough for this Australian couple. They have partnered with ag-tech venture capital firm Tenacious Ventures to raise $4.5 million in a push "to lead the world in the production of agricultural robots." Tall order!
Jamie Grant, Queensland cotton farmer, has two. Grant says has cut his chemical use by nearly 80 per cent since he started using the robots. "This is good for the environment and good for the longevity of the chemicals because we're taking out small weeds, and we're not building resistance to chemicals," he said.
When it comes to weeds, he says, "My farm has never been cleaner. His eyes can't match the cameras that hone in on tiny weeds and prevent what he calls "big mongrel weeds" that use up precious soil moisture.
"Bate believes his low-budget start-up has nudged ahead of global agricultural machinery giants because his team worked closely with him to find solutions to soil compaction and weed-resistance problems on his grain property."
As the couple put it: "The way robots can be used is only limited by what can be mounted on the frame. "A robot with one use is a one-trick pony. Our robots are a platform that's going to deliver the next wave of change in agriculture."